AnimationRigs.com is going to Comic Con. For those of you attending come on by and visit us at booth #5005. It'd be great to meet you and chat. We are also releasing the first book in our Anim-Mates series, "Designers Unleashed" at a Comic Con only rate ($20). For those of you not attending the Con you can still take advantage of the Con rate through the pre-order page until July 21st. Please do pre-order so we don't run out (click the image below for more info).
http://www.animationrigs.com/shop/unleashed.asp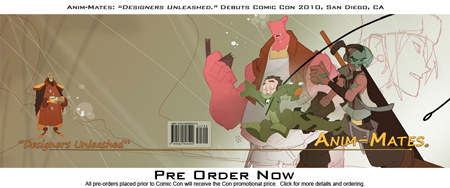 We hope to see you all there where we will be talking the talk about Character Design, Modeling, Rigging, animation and more. The San Diego Comic Con runs July 22-25 with the preview night July 21st for those of you that didn't already have it on your calendar.