Hello! My name is Steve Sievers and I'm the co-creator, animator, writer, & voice of Daniel the Turtle for the series SUPA PIRATE BOOTY HUNT. A lot of great things have been going on in the SPBH world. Time Warner Cable TV show called So Cal's Best did a episode called "Behind the Scenes So Cal's Best Indie Animators", these are screen shots from the airing. Host Ben McCain who interviewed myself & Dahveed about Supa Pirate Booty Hunt but also our indie animator bros Raul Aquiree Jr. Jim Lujam, & Ken Mora. The show also aired our animation episode "Holiday Fight Club" You can watch it ON DEMAND, Just go to On Demand/Local/So Cal's Best/Series/Indie Animators.
Get excited! Get pumped up! Because Supa Pirate Booty Hunt is doing an animated episode PSA for Music Saves Lives where Cpt Zack Stevers & Daniel the Turtle rock out at Vans Warped Tour 2011 and show you how each blood donation can save up to three lives. First half of the episodes premieres at Vans Warped Tour Kick Off Party on March 25 @ House of Vans in Brooklyn New York. See full episode online in April. Here is a little sneak peak in the mean time:
Green Day Official Website has Daniel the Turtle on it under the news section for Feb 27, 2011. The news post features a video interview with bassist Mike Dirnt by DJ Rossstar of The Punk Rock Show. The video was shot & edited by myself and is on the SPBH youtube channel. You can see in the video that Mike Dirnt is checking out Supa Pirate Booty Hunt postcard and likes what he sees and yes that is me dressed up as Daniel the Turtle. Great promo tool!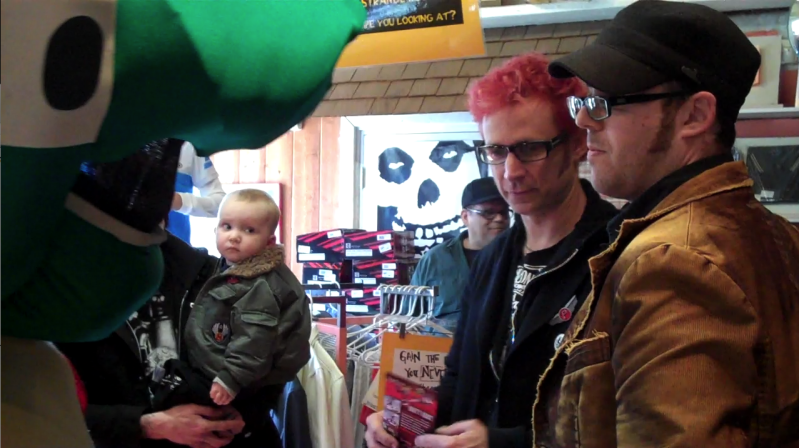 Anyone attending Wondercon April 1 - 3 in San Francisco? We will be hosting an after party/networking on Saturday April 2nd @ 7 PM @ The Eve Lounge which is only a 5 min walk from the convention. Check out the facebook event page for more details:
http://www.facebook.com/event.php?eid=201054063251834
Don't know about SUPA PIRATE BOOTY HUNT. Watch our animated episodes and you can view more on our website at
http://www.supapiratebootyhunt.com